Statistical Breakdown
If you have 1,000 website visits and 20 average leads per month, it means you have a 2% Traffic-to-Lead Ratio. By optimizing your website for lead generation and going from 2% to 4% you double your lead generation without even gaining any new traffic.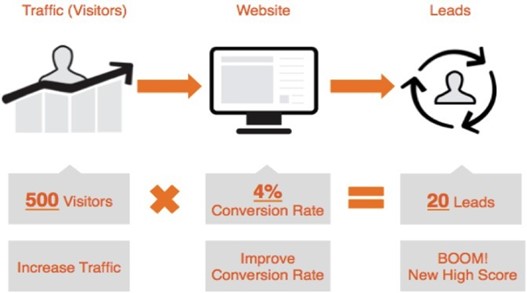 We'll talk about how we do this in a second, but hang with us a minute.
With the average conversion rate around 2%, by breaking into the top performing twenty-five percent of websites, you can attain a 5% conversion rate and more than double your online leads simply by pulling some big levels that have a big impact on website lead generation.
This means instead of 20 new leads per month at a 2% conversion rate, you could potentially double, triple, or even quadruple this amount by abiding by the best-known practices of website lead generation.
The graph below is a demonstration of thousands of accounts and the average conversion rates at 2.35%. Simply breaking into the top 25% of accounts, you more than double your lead generation to 5.31%.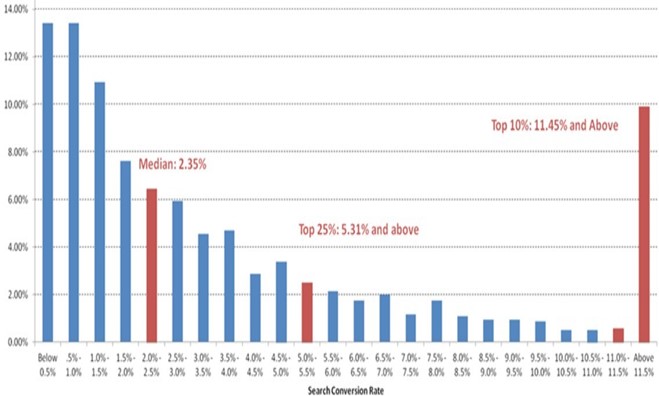 All this means that you go from 20 leads per month to over 40 leads per month for example. Depending on the size of your websites traffic, the rates stay the same according to these ratios.
Source https://neilpatel.com/blog/prioritize-traffic-over-conversions/
How We Monitize Your Website's Data
Improved traffic-to-lead ratios for your website means better cost-per-lead. It's pretty obvious. If you gain more leads from the same amount of traffic, essentially, your ROI improves instantly with no further changes needed.
You haven't even invested in additional SEO services yet to increase your traffic volume. All you've done is optimized your website and online assets for lead generation and you've instantly improved your customer acquisition cost.
We track and make improvements on certain key measurements and reap big changes in on overall conversion rates.
A few key indicators that we track include:
Traffic-to-lead ratio (new contact rate)
Click through rates
Keyword specific traffic
Traffic volume and lead conversion rates
Company social media accounts and traffic source assets
4 Key Statistics about Lead Generation and Landing Pages
A Landing Page as defined is just a lead capture page on your site.
It can be in the form of a service page, a homepage, or any other page that offers something of value to the visitor in exchange for their contact information.
Here are a few important statistics to consider when it comes down to placing us among the top percentage of Landing Pages that generate leads.
70% of websites lack a Call to Action on their Even, fewer have a clear value proposition and enticing offer.
Visitors spend 88% more time on pages with
Users spent approximately 57% of their page-viewing time above the fold and 74% on the first two
On average, users read 28% of the text on a
From these statistics alone, we understand we need a unique value proposition, aligned offer, call to action, and a promotional video with simple copywriting on the first fold of the website to place us quickly among the best- performing homepages that convert.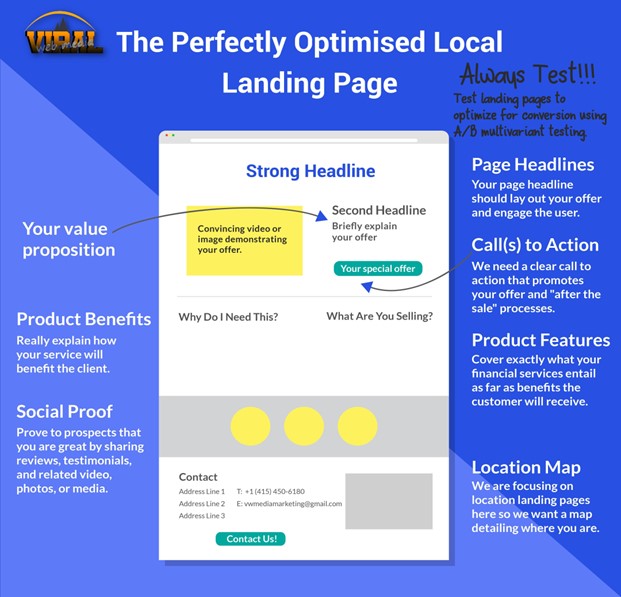 Sources:
https://www.webfx.com/web-design/statistics/ https://viralwebmedia.com/high-conversion-landing-pages/
Landing page optimization brings improvement in conversions AS WELL AS lead quality. This is because with proper copywriting, we not only convince but we also qualify or disqualify potential leads that enter our lead capture.
With a well crafted message and copy on your landing page, we ensure that the leads coming in are more likely to be convinced and qualified for the services offered. This way, you simultaneously improve the number and quality of leads that opt-in.
9 Point Lead Generation Checklist
We've created a checklist of the top things you can do to have a profit and lead generating website. Top tips to drastically improve your Traffic-to-Lead ratio.
Have a Clear Value Proposition and Lead Gen Offer: What can your business do that competitors can't and why should visitors choose you? Financial Advisors often fail to explain what visitors have to gain for making an appointment with them.
Use a Clear Call to Action: What should the visitor do and what will they gain from completing your call-to-action?
Include a convincing video: If a picture can say a thousand words, imagine what a video can do. Your video needs to convince visitors that you are the best provider for their Your video should displayed on the first fold of your website with convincing copy, no scrolling needed.
Ensure original images of your business on the second fold of your website with Testimonials and Case Studies explaining your
Use Retargeting to recapture people viewed but didn't
Link your Social Media accounts to your landing and drive traffic to your website content. Set up trackers to know which social accounts are working.
Offer minimal distractions, options, and places to click on your landing Draw as much attention to your call-to-action as possible.
Include a lead magnet form on your website. If a visitor isn't convinced yet on your main call-to-action, ensure that they have another way to learn more about the value you can offer Offer a valuable piece of gated content in exchange for their contact information. Typically, the less information you ask for, the more likely people are to give their info.
Invest in Professional SEO services to get more Once we have improved your Traffic-to-Lead conversion ratio, the only thing left to do is drive more traffic to your landing pages and get your website in front of more interested eyeballs.
Our blog services rank you on the first page of google for relevant keywords and will be highly effective in driving more traffic to your website.